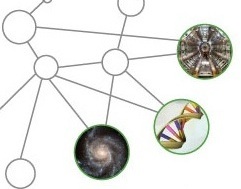 Lawrence Berkeley National Lab
Overview
The Data Science and Technology (DST) Department - a part of the
Computational Research Division (CRD)
at
Berkeley Lab
- delivers leading-edge, innovative methods for solving data-intensive science problems. DST activities range from basic and applied research to deployment of software tools. Our projects span a diverse set of activities, including: data management; data movement; cybersecurity; machine learning, statistical, topological, and geometric analysis/analytics; computer vision; visualization; user-interface design; usability; end-to-end data-intensive system architecture and deployment. We focus on conceiving, developing, and applying leading-edge, innovative methods for solving data-intensive science problems. Our multidisciplinary teams are engaged on projects in five primary mission areas:
Scientific workflows and data analysis algorithms and frameworks
Data synthesis, management, movement, and curation of large and complex datasets
User-centered design of interfaces and software
High-performance machine learning, data analytics, and visualization capabilities
Cybersecurity for science and energy
Our collaborators are from across the science disciplines, ranging from theoretical astrophysicists to computational and experimental bioscientists. The capabilities we build are driven by the needs of contemporary computational, observational, and experimental science projects central to the mission of the DOE Office of Science. Our portfolio includes projects in basic and applied research, advanced software development, and deployment to the scientific community. The science challenges we are helping to understand include: understanding carbon interactions between the atmosphere and the biome, interpreting results from trillion-particle space weather simulations, detecting extreme weather events in climate models, locating halo particles in accelerator models, understanding organism function, and detecting blobs in fusion experiments while the data is in transit.
Latest News
Latest news on DST and other CRD and LBL projects are available at
Computational Research Division New Page
and
Berkeley Lab News Center
May 20, 2019
December 4, 2018
November 20, 2018
November 7, 2018
September 24, 2018
July 3, 2018
June 2018
April 27, 2018
April 2018
April 16, 2018
March 27, 2018
March 23, 2018
March 15, 2018
March 7, 2018
February 5, 2018
January 30, 2018
April 28, 2018
December 18, 2017
December 4, 2017
November 27, 2017
October 16, 2017
September 30, 2017
September 26, 2017
August 24, 2017
July 3, 2017
June 26, 2017
May 9, 2017
May 3, 2017
April 3, 2017
February 11, 2017
November 7, 2016
September 16, 2016
October 31, 2016
July 12, 2016
June 9, 2016
May 19, 2016
March 18, 2016
January 19, 2016
January 19, 2016
view archived news